Brzeginki/Water nymphs
The Arsenal Municipal Gallery in Poznań, 2020
The protagonists of the exhibition at
the Arsenal Municipal Gallery
in Poznań are the eponymous Slavic goddesses. The exhibition, reconstructing their "natural environment," is a free reinterpretation of the myth surrounding water nymphs. The project drew its direct inspiration from the gallery's stone floor, which conceals fossils of corals, ammonites, and shells, as well as the face urns from
the Archaeological Museum
situated adjacent to the gallery.
The exhibition showcases 3D printed urns. These were crafted based on 360-degree photographs of museum objects. Additionally, it features a 3D reconstruction of the now-extinct Ice Age relic, the freshwater prawn (Branchinecta paludosa). In this manner, the pre-Christian history of Poland's prehistory is invoked tangibly.
A significant component of the exhibition is the AR application developed on the Unity platform, using the Vuforia plug-in. This app, compatible with both iPhone and Android devices, enables visitors to scan markers situated on the exhibition's pedestals. Upon scanning these targets, animated 3D scans of the titular water nymphs and the reconstruction of the extinct freshwater shrimp are displayed on the smartphone screen.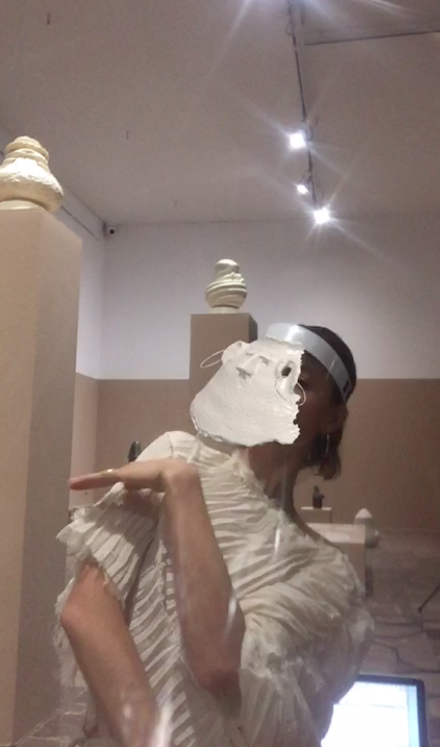 Want to try out the water nymph AR mask? Click
here
.
The opening of the exhibition was accompanied by a musical performance during which the water nymph WetMeWild appeared.
In cooperation with: Marta Navrot, Curator: Ania Batko, Photography: Tomasz Koszewnik, Paweł Wyląg.